CALL FOR PAPERS THE 5TH ICAITI 2022 ISTANBUL
[email protected]
International Conference on Applied Information Technology and Innovation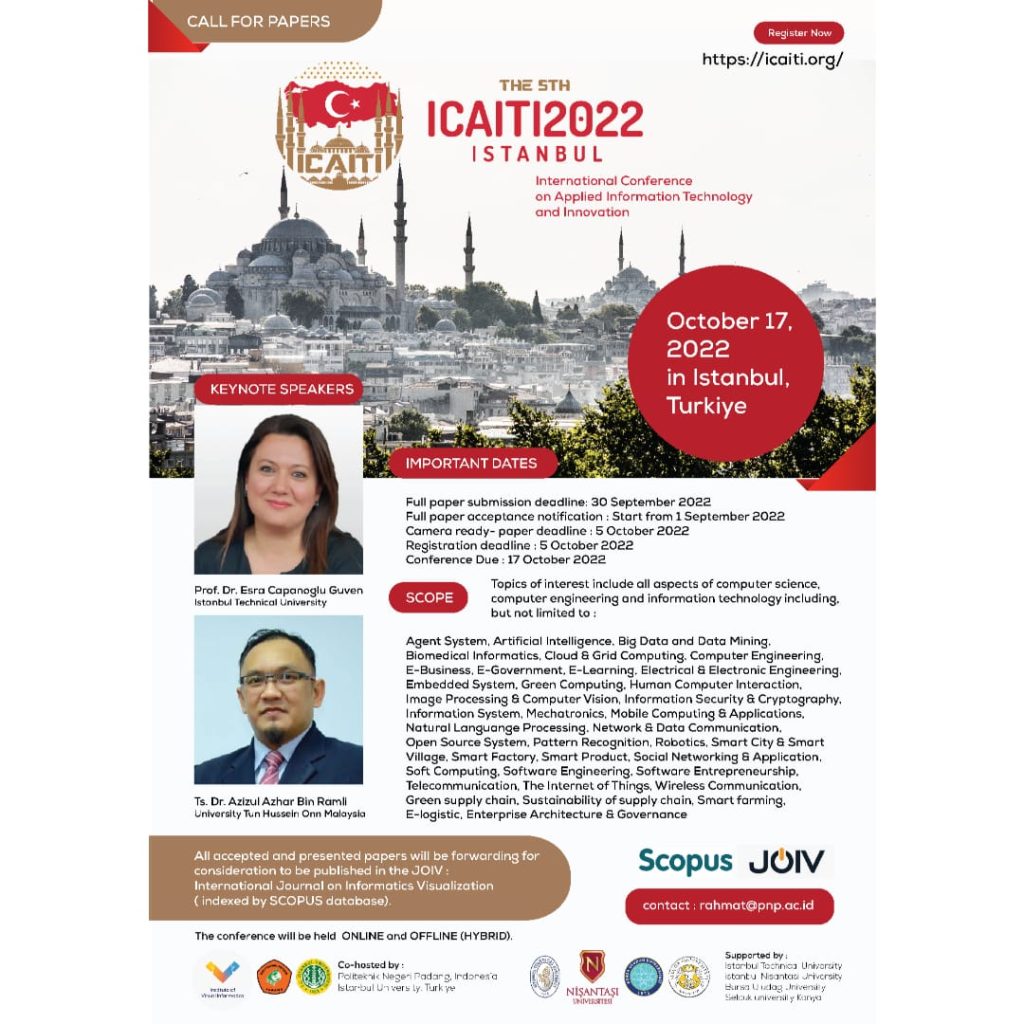 CALL FOR PAPERS 📚
The 5th International Conference on Applied Information Technology and Innovation (ICAITI) 2022
This conference organized by Information Technology Department Politeknik Negeri Padang and Istanbul University. Will be held, October 17 2022 in Istanbul, Turkiye
🎫 Keynote Speaker:
Prof. Dr. Esra Capanoglu Guven ( Istanbul University – Turkiye)
Ts. Dr. Azizul Azhar Bin Ramli (University Tun Hussein Onn Malaysia, – Malaysia)
⏳IMPORTANT DEADLINES⏳
Full paper submission deadline : 30 September 2022
Full paper acceptance notification : Start from 1 September 2022
Camera ready- paper deadline : 5 October 2022
Registration deadline : 5 October 2022
Conference Due : 17 October 2022
Topics of interest include all aspects of computer science, computer engineering and information technology including but not limited to other field related to Applied Information and Innovation
🕹️Manuscript Preparation
The Paper Should be written in English, View the theme and scope topics, the length of submitted paper is at least 4 pages and no more than 6 pages in A4 Paper size, The paper must conform to the standard of JOIV Templates for Conference Proceedings and All review processes are blind peer-reviews by minimum three reviewers
📥 Full paper submission: https://edas.info/index.php?c=30012
📤 All accepted and presented papers will be forwarding for consideration to be published in the JOIV : International Journal on Informatics Visualization ( indexed by SCOPUS database).
https://www.scopus.com/sourceid/21101033322
and indexed by SINTA 1 
https://www.sinta.ristekbrin.go.id/journals/detail?id=4214
ℹ️ For more information, please kindly visit
https://icaiti.org/
☎️ Contact
ICAITI 2022 Secretariat
Politeknik Negeri Padang
Phone Number :+62 82171822-448,, +62 812-67775-707, +62 813-63497-337
Contact: Rahmat Hidayat, Alde Alanda, Hidra Amnur
Email : [email protected], [email protected], [email protected]
📝Looking forward to meeting you in Istanbul 2022!